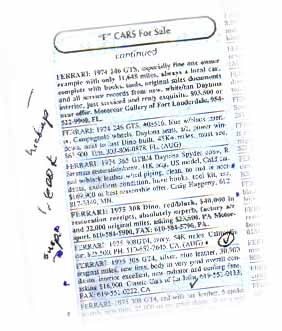 The owner was a nice guy named Jaan. He told me that he was going on a trip to Italy and wouldn't be around for awhile. This worked out alright as it gave me a chance to put financing together. I had pretty much figured this was it as the others I called on had either been sitting too long, were in need of a major service, were a euro car, etc. I had talked to Tom Shaughnessy who sells Ferrari parts and he said either have Jaan go over an inspection with me or take it to a qualified shop like Cammisa. I decided I wasn't about to take a chance on mechanical condition and was ready to pay the $300 or so to have it looked over by a mechanic. I called Cammisa and they were booked up for a couple of weeks and said to try somewhere else. I had read in the listserver archives that a couple of people had reccommended Patrick Ottis in Berkeley and being that he was close to Jaan's shop I decided to give him a call.

Good fortune was with me. He had already done a pre-buy inspection on the car for somebody else. "Hang on and I'll get my notes," he said. Compression was great, 180 in each cylinder, mechanically sound, brakes squeal, front shocks needed fixing, and the rear CV boot needed to be replaced. He said the paint was good but not stellar and that the car wouldn't win any trophies but would be a good driver. I asked on what it would cost to fix the shocks and the CV boot and he said the shocks were about $500 and the boot about $150. Sounded pretty good for a 20 year old car.

Now all we had to do was wait for Jaan to return from Italy. We start calling and worrying that we'll miss it. I start looking around for other possibilities and there's nothing I like as much even though I've never even seen this one. I'm sure he'll back any day now.
---