Ferraris and Tigers and Shelbys, Oh my!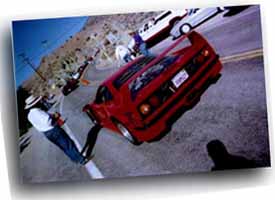 My wife was anxious about the car as well and had started calling to see if Jaan was back yet. One day she called and said, "his phone is busy!" I called myself and sure enough it was. He was back. I called a few minutes later and got through. Yes, he remembered me, the guy with the Cadillac. Yes, he still had the car but now he wasn't sure if he wanted to sell it. Three weeks of waiting, money sitting in the bank, we're ready to rent a car and go get it but he's not sure.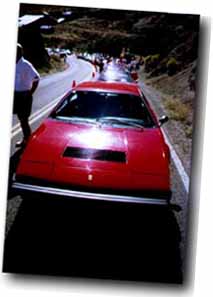 But hey, this guy just got off a plane the night before and sounds like he had a great trip. Even got to visit Maranello and see the factory. Says he forgot to get the papers in for competing in the Virginia City Hillclimb that was this weekend so he wouldn't be able to race but was planning on going. He said to call him next week when he was more settled. The waiting now took on a whole new aspect.
It's times like this when a guy really appreciates a great wife. "Let's go to Reno and see it at the hillclimb." We hadn't had a trip since the Monterey Historics and here would be a chance to see more Ferraris together than we had ever seen. I figured there were sure to be more GT4s there and maybe even another one for sale. Being that I hadn't sat in one let alone drive one it sounded like a good opportunity. The Road Trip was on.
---