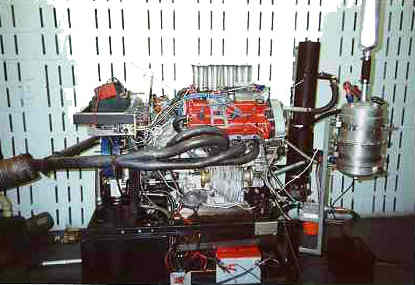 The 3 litre Ferrari V8 is a powerful engine but it is built more for the road than for the track. Miles wanted to get the maximum power as well as improve reliability for the grueling demands racing would put on the powerplant. The major modifications included the following:
1) Heads were reworked & flowed.
2) New competition cams were installed (don't remember the profiles).
3) New Manley valves were installed
4) New Weisko(sp.?) pistons & connecting rods were installed.
5) An external Aviad dry sump pump was installed.
6) A 16- quart oil reservoir was installed in the same location as the original passenger-side fuel tank which was eliminated.
7) The oil pan was modified with 2- pick-up points.
8) A new, larger oil cooler replaced the stock unit.
9) A transmission oil cooler & electric oil pump was installed.
10) The oil filter was relocated.
11) A new mechanical fuel injection system was designed and installed. This didn't work out very well. I believe that the crank shaft driven mechanical fuel pump was the problem since it was not self- priming. Heat was a major problem creating vapor lock. Right now I'm going back to the original Weber Carbs. Modified to feed the increase in compression ratio (12.7 to 1). Eventually (when money permits) I'll go bact to an electronic fuel injection system.
12) The dual distributors were replaced with 1- Mallory magneto for added punch. I had driven the car with both systems (mech. fuel inject. & unmodified carbs. It performed much better even with the unmodified carbs. I'm looking forward to running it with the modified carbs. A decent electronic fuel injection system would probably cost around $5000 (US). I will no doubt have to change the ignition system to something like an electronic "crank trigger" instead of distributors or magneto.
17. An ATL fuel cell was installed in about the same position as the original driver's side fuel tank.
18. A NASCAR aluminum radiator was installed.
---