S P E C I F I C A T I O N S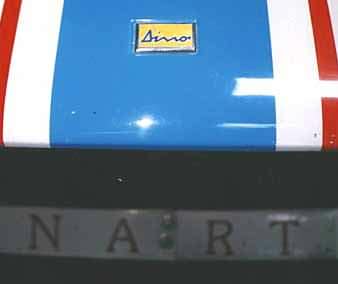 E N G I N E
Daytona pistons and rods; crankshaft and cylinders machined to increase tolerances. Heads ported and polished. 42mm carburettors, race profile cams, and special exhaust headers. Re-engineered oil sump baffling. Result 300bhp at 8200 rpm designed to last 24 hours.

C H A S S I S AND B O D Y
Brakes: Girling four-cup calipers with DSII pads. Master cylinders, linkage box and hoses from the 512. Additional ducting. Suspension: Rigid bushings, drilled A-frames, larger diameter anti-roll bars front and rear. Aluminum doors and lids; plexiglass windows. Chin spoilers and adjustable rear wing. Result: 2350 lbs wet. 40 gallon fuel capacity. Top speed: 176 mph.

H I S T O R Y
This car enjoys a special place among modern Ferrari racers. For one, it's one of the few Ferrari four-seaters ever converted to compete as well as one of the few factory ventures into group five production-based racing. In its initial outing at Le Mans in 1974 it retired after only four hours with clutch problems while lying 38th.

The following year it was entered by the NART team of Luigi Chinetti and qualified with a time of 4:32 placing it in the top-half of the grid but was withdrawn along with the entire NART team as the result of historic flap between the French officials, notorious for their often "unique" intrepretations of race rules and regulations, and Lugi Chinetti, usually notorious for his skillful dealings with officials.

For the entire story continue on.

---