1969 Cadillac DeVille Convertible
---
Cruise nights, parades, show and shines, owning an old Cadillac is not just about getting from point A to point B in style it can be a whole way of life. Here in our local town of Medford, Oregon there are a number of people with old classics and you can see most all of them on a warm summer evening during Cruise Night. Other local towns also have nights and, of course, there's the grand-daddy of them all, Hot August Nights in Reno, Nevada.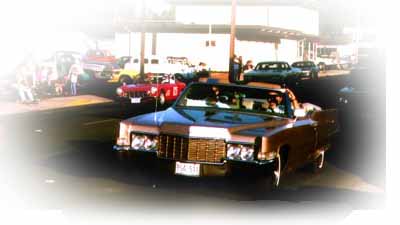 Then there's parades. Driving slow, weaving around, tossing candy and the required wave. I've taken the Caddy in the Pear Blossom Parade a couple of times and it is quite and experience. A little known tip if you don't have a hard boot to cover your top is to cut a piece of plywood or layer some cardboard under your soft boot to support whoever will be sitting in the back.
Show and shines are those times where classic car owners get together in a parking lot, or a park and display their cars for others to see. Take a picnic and enjoy a sunny day with other people that enjoy their cars. These events are usually sponsored by a local car club and publicised in their newsletters and such.
---