1969 Cadillac DeVille Convertible
---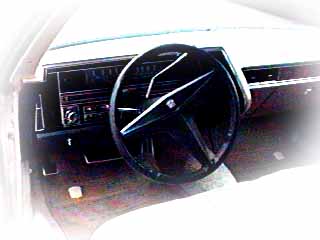 The interior is, in a word, spacious. It's a little like driving in your living room only with a slight breeze. There have been a few times where we've had several to go out to dinner (in-laws, visiting guests, and such) and the Caddy has accommodated them all. On trips it is at its best. The expansive trunk will hold plenty of luggage and whatever accessories may be required. We've even taken it camping packing a tent, chairs, cooler, stove, sleeping bags and more! There was even room for the dog in the back.

Riding long distances with the top down can get a little tiring but one of the best pleasures is pulling over when there's only about an hour to go on the way to the coast or maybe just for a little drive to break up the trip. Put the top down and the fresh will fill you with new energy. If you do plan on spending time with the top down be sure to keep a container of sun screen in the glovebox. I've had a pretty red nose several times and it can be a little painful.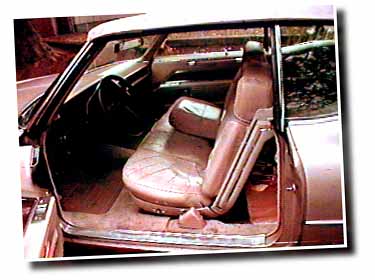 It has six-way power seats upholstered with ostrich patterned leather. The steering wheel tilts and telescopes to fit any position. Three-speed wipers, climate control, twighlight sentinal, FM stereo radio, and of course a power top all within easy reach. There's a power trunk release in the glovebox and the parking break releases when the gear selecter is shifted from park. There are, of course, power windows, power door locks, power brakes and steering and a lot or power! Cadillacs have always been known for comfort and this car is no exception.
The car is powered by a 472 cubic inch engine that offers gobs of power and delivers great performance. Fuel economy? Well if you have to ask maybe you're looking at the wrong car! Actually, it gets around 10 mpg around town and 12 to 14 mpg on the road. Consider that most SUVs get around 16, my wife's BMW about 14 and my Suburban about 7 and the difference you'll spend on gas is just a few dollars a month. If it's money you're worried about then consider what you'll not be spending on repairs. Old General Motors technology means that little ever goes wrong and when it does repairs are inexpensive and parts easy to find. Just about any backyard mechanic can work on it with a simple assortment of tools.
---