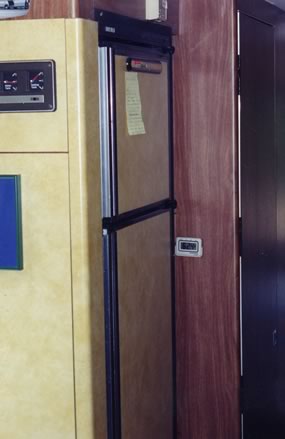 General Details
1975 GMC Palm Beach Motorhome
total mileage - 180,000
engine: Olds 455 - rebuilt Oct. '94 @ 124,630 miles
transmission: GM 425 rebuilt @ 124,951
Complete records and service history, manuals, etc.
Mechanical Upgrades
Allison Torque Converter
Tires: Michelin-new in 1998 at 161,300
Final Drive: Cinnabar 3:42 ratio, new in 11 of '95 at 139,800
Radiator: reconditioned with new core in Oct 94 at 124,630
Rear Disc Brake upgrade on front rear axle (original equipment was drums on both rears)
CASPRO shock absorbers
New Steering Gear Box (upgraded gear ratio from CASPRO
New Steering shaft from CASPRO
Remote transmission dipstick (originally under engine cover)
Thorely Headers
ALCOA aluminum wheels (no vibrations, easier to balance)
K&N Air filter (better flow, cleanable/reusable)
Stainless steel air suspension reserve tank
Two roof ACs
6k Onan Generator
Coach Upgrades
Norcold 3-way refrigerator
Suburban furnace
Todd 110 volt to 12 volt converter
New Hot water tank
New Carpet
Screen door
Aluminum roof ladder
roof storage pod
Macerator sewage pump (processes and pumps sewage through standard hose)
Pioneer AM/FM/CD with remote
Cobra 25 LTD CB
Ragusa entry step
Microwave/convection 6-way GE microwave oven
Zip Dee Awnings (patio on passenger side and window on driver side, almost new)
Sun Guard outside window screens for front, back, and side.
LP gas leak detector with main tank auto shut-off.
TV antenna-signal booster
New fuel lines to tanks
Custom sheep skin covers for driver/passenger seats
RAMCO remote mirrors
More!