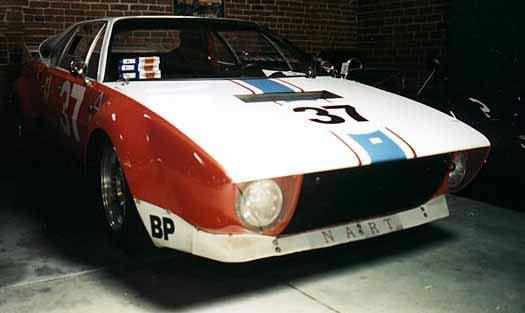 This car, chassis number 08020, is the only factory 308 GT4 competition car. It was prepared by the factory as a group 5 car for Le Mans in 1974 but retired with clutch problems after four hours lying 38th.

The car is currently for sale at Fantasy Junction in Emeryville, California. They've had the car a couple of different times and their current price is $159,500. As the window stickers will attest, this car has had an active retirement participating in four Monterey Historic races and three Wine Country Classics at Sears Point. When I looked it did not have an engine installed but the salesman assured me that it was included. The interior was remarkable not in its modifications but the lack of them. Of course, ther rear seat was removed and there was no passenger seat but other than that the interior looked very much like that in a stock GT4.

A former owner of the car, W. A. Schanbacher, had these comments about the car:

"As a car for use in club or exhibition racing, it is almost perfect, being well-balanced with no really evil habits. In hard cornering, the throttle can be used to induce easily-controlled under or over steer. The motor is stone reliable, turning to 8000 rmp so easily that I have to watch my self-imposed 7000 - 7500 rpm limit. The DS II lining and silicon brake fluid have provided tremendous, balanced, fade-free, easily modulated braking. The suspension is surprisingly supple with light, but positive, steering. Even on rough parts of the track, the car holds well and doesn't lose its balance. Its predictability is confidence building, and allows me (the all too occassional driver) to drive hard with only my own limitations to worry about!"

---